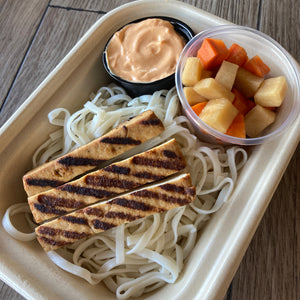 All the flavors of Banh Mi - but plant-based and in a bowl with noodles!
Grilled tofu, pickled daikon and carrot, organic lo mein noodles with our own vegan sriracha mayo!
Spicy
*Homestyle meals may have calorie counts or ingredients outside of our core menu guidelines.  Check nutrition facts for more info.
INGREDIENTS & Nutrition Facts
Nutrition Facts shown for Regular Serving (Large Serving = 1.5 x Regular)