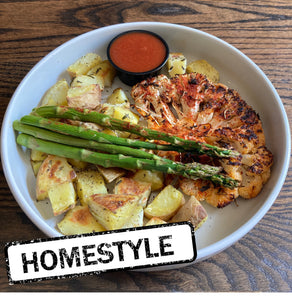 Homestyle meals = Bold flavors & familiar textures!  Great for those new to plant-based eating!*
Yes, it's cauliflower as a steak! Seasoned, roasted, and served with our own steak sauce!
This plate is rounded out with rosemary potatoes and roasted asparagus.
Gluten Free, Nut Free
*Homestyle meals may have calorie counts or ingredients outside of our core menu guidelines.  Check nutrition facts for more info.
INGREDIENTS & Nutrition Facts
Nutrition Facts shown for Regular Serving (Large Serving = 1.5 x Regular)