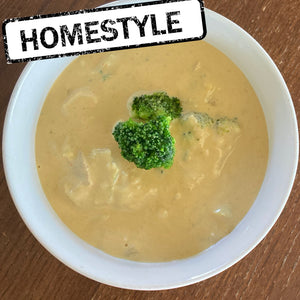 Homestyle* Creamy, cheesy, potatoes and broccoli - and it's amazing!
Created by Juana in our breakroom: our employee fridge is always stocked with odds and ends left from portioning meals. Juana's longtime favorite is a mix of mashed potatoes, nacho cheese, and "broccoli bits." We decided it's too good not to share.
Gluten Free, Soy Free, No Added Oil
*Homestyle Meals -  Bold flavors & familiar textures. May not meet our standard nutrition guidelines.
INGREDIENTS & NUTRITION FACTS
Nutrition Facts shown for Regular Size; Large Size = 1.5 x Regular