The premier plant-based meal prep in Texas
Whole Food, Plant-based Meals
The core of our weekly rotating menu includes breakfast, lunch, dinner, and snack options made from whole grains, legumes, lots of veggies, and no added oil.  
Homestyle Meals
Homestyle Meals: big on flavor with more familiar textures, these family-friendly meals are perfect for those transitioning to plant-based.
Bakery
Texas' only whole food, plant-based bakery: whole grains, low glycemic sweeteners, gluten free, and no added oil options.  Cookies and brownies so yummy you won't miss the bad stuff.
How Does It Work?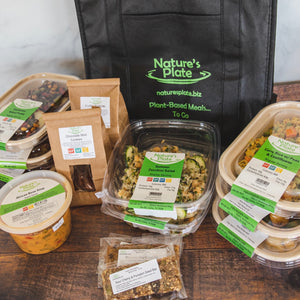 Sign Up for a Weekly Subscription
Best deal available. You can select your meals every week or let us pick for you! Choose pickup or delivery!
Learn More
Order individual items
Order as much or as little as you like for next week from our weekly menu - choose pickup or delivery.
ORDER NOW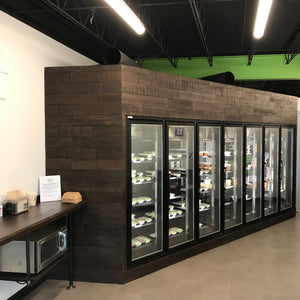 Come see us
Stop by our store to select items from this week's menu.
Dallas - Lake Highlands

10233 E. Northwest Hwy #432
Dallas, TX 75238
(469) 307-4217

Mon 10am-6pm
Tues - Fri 10am-3pm
Sat 10am - 5pm
Sun 11am - 6pm

Delivery Available:

Allen, Carrollton, Colleyville, Dallas, Fairview, Farmers Branch, Flower Mound, Frisco, Garland, Grapevine, Highland Park, Irving, Lewisville, Little Elm, McKinney, Mesquite, Murphy, Plano, Prosper, Richardson, Rockwall, Rowlett, Sachse, Southlake, Sunnyvale, The Colony
Testimonials
Y'ALL! I. Love. This. Place. Everything is amazingly delicious and VEGAN!! Plus, they only use the best ingredients. I def appreciate that "Dirty Dozen" produce is always ORGANIC! As an ex vegan, I think this place will really help me get back on track 

Yelp Review
Amazing plant-based food even if you are not vegan.  The flavor profiles will have your taste buds singing.  If you haven't tried Nature's Plate, you should.

Yelp Review
Food quality is amazing, it is always so fresh and delicious. I always come in to purchase on-the-go, but they do offer the option to order in advance and pick up your meals for the week. Options change frequently so you never get bored...

Yelp Review
My family has been trying to incorporate more plant-based meals into our diet, and Nature's Plate has tremendously helped with that transition. Every dish we have tried has been absolutely delicious!  The brownies, chocolate pudding, and ginger molasses cookies are decadent, and my family prefers them over the regular versions..

Facebook Review
Even if you aren't vegetarian but would simply like to add more plant-based meals to your diet, I highly recommend Nature's Plate. My meat-eating spouse and vegetarian self both enjoy the meals. Also, they make many gluten free options and list all ingredients, making it easy to avoid foods you can't eat.

Facebook Review