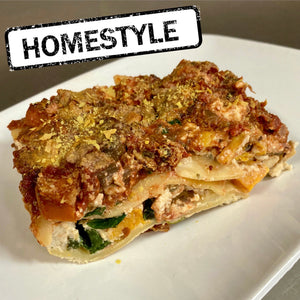 Homestyle meals = Bold flavors & familiar textures!  Great for those new to plant-based eating!*
Layers of tofu ricotta w/ roasted butternut squash, spinach, and pasta. Topped with our own marinara. This may be our best lasagna yet!
*Homestyle meals may have calorie counts or ingredients outside of our core menu guidelines.  Check nutrition facts for more info.
INGREDIENTS & Nutrition Facts
Nutrition Facts shown for Regular Serving (Large Serving = 1.5 x Regular)