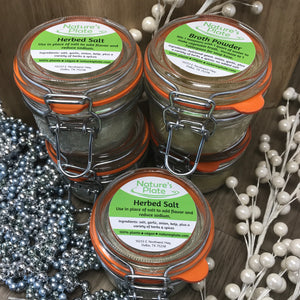 The perfect gift for cooks of all skill levels.  Available individually or as a set with a bonus Vegetable Soup recipe!
Herbed Salt: Our own blend of herbs, spices, salt, and sea vegetables... takes the place of salt in any recipe to add flavor and reduce sodium. 5 ounces.
Broth Powder: The same blend we use in the Nature's Plate kitchen! Mix with water for a flavorful, low-sodium broth for any recipe.  3.5 ounces

And they come in cute reusable jars!